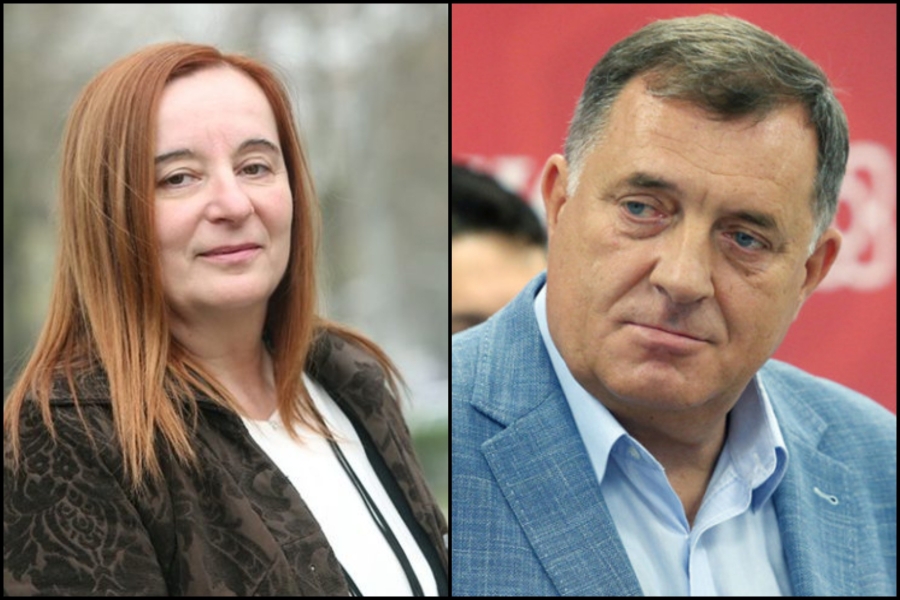 Sarajevo / Banja Luka, May 25, 2021 – The BH Journalists Association strongly condemns the accusations of the Chairman of the Presidency of BiH Milorad Dodik against Tanja Topic, a journalist and political analyst from Banja Luka.
Milorad Dodik's statements that Tanja Topic is a "proven quisling" and an agent of German intelligence structures represent insulting and misogynistic political and slanderous pressure, as well as directly endangering safety and targeting one of the most prominent journalists and analysts in Bosnia and Herzegovina! This kind of threat to the freedom of speech by one of the highest political officials in the country is almost unprecedented in the local political and media scene, and requires prompt reaction and condemnation of all relevant domestic and international institutions and organizations working to protect journalists' rights and media freedom.
We emphasize that this is not the first time that Milorad Dodik labels certain media outlets, journalists and analysts as "traitors", mercenaries and "hostile media", insults and humiliates journalists whose reporting and attitudes he disagrees with. Unfounded accusations, public humiliations, swearing and insults, expulsions from press conferences, are the usual way of Milorad Dodik's communication with media representatives in BiH. It is shameful and inadmissible that the chairman of the Presidency of the state treats journalists and the media in this way, without incurring any consequences for publicly pronounced slander! Therefore, BH Journalists will provide full support and legal assistance to our colleague and our member Tanja Topic and insist that Dodik prove his allegations in court, and if he is unable to do so, he will bear responsibility for defamation in accordance with the law.
The Steering Committee of BH Journalists emphasizes the fact that Dodik's statement about Tanja Topic was transmitted by numerous media outlets in BiH, without even bothering to contact Topic and ask her to comment and in that way respect the minimum of professional integrity in the case when the target of a brutal verbal attack is their colleague and interlocutor, whom they contact almost daily about various political topics and current events. Solidarity within the media community in these situations is an imperative that we must never ignore. Any kind of different course of action opens space for new political pressures on the free work of the media and journalists, investigative journalism and critical analysis of the actions and decisions of government representatives.
Milorad Dodik's statements about Tanja Topic and her family, as well as all his previous verbal attacks on journalists, deserve, at the very least, a temporary boycott of media coverage of Dodik's activities.
BH Journalists will inform all relevant domestic and international institutions and diplomatic missions in Bosnia and Herzegovina about this case.
The Steering Committee of BH Journalists Association