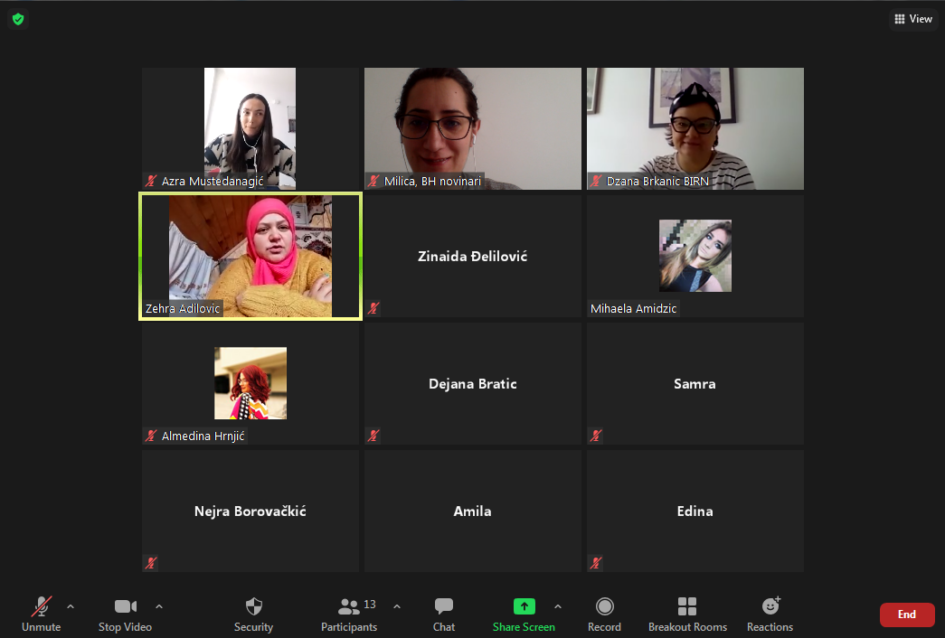 Sarajevo, April 15, 2021 – Investigative story must contain original work of journalists, not just transmission of other people's discoveries, point out systemic problems, and must explain complex social problems, reveal corruption, bad behavior and abuse of power – it was pointed out during the workshop on investigative journalism for media workers and freelance journalists from local communities, which was organized by the BH Journalists Association, through the Zoom platform.
Investigative journalism is based on the original investigative work of journalists, and reveals information that an individual, organization or government seeks to hide from the public and arguably points to a problem of general interest. The information that is tried to be hidden is usually that related to abuses in public services, illegal financing of election campaigns, corruption in the judiciary, police, health, education, and the connection between crime and politics, bribery and the like.
Zinaida Đelilović, a journalist for Zurnal magazine, is of the opinion that investigative journalism requires a lot of time and resources and that it very often means that one or more people from the editorial office deal with only one investigative story for a long time. "The fact is that not every media can afford it, because in that way everyday content is not produced which "fills" the pages of newspapers or portals. But, investigative journalism can be done by any journalist, regardless of the medium in which he is employed, it's all a matter of approaching a certain topic", believes Đelilović, adding that investigative journalism helps citizens fight for their rights, and often points to different types of irregularities in society and how abuses can affect our lives. 
Džana Brkanić, Deputy Editor-in-Chief of the Balkan Investigative Reporting Network in BiH (BIRN BiH), says that the biggest challenge for journalists, especially colleagues who are just starting out in journalism, is to find a story to research, but that it shouldn't worry them much because the story has more than investigative journalists in BiH. "For young beginner journalists, the most important thing is to be informed on a daily basis, because they do not yet have an elaborate network of so-called informants, contacts, or sources of information. By reading the press and the portal, we develop journalistic skills of recognizing important information every day, we get to know events and personalities of interest to the public, potential interlocutors or sources, and we come to topics" Brkanić points out.
She also adds that it is important to learn the rules and laws of the system in which the story takes place at the outset so that we can more easily understand and quickly recognize the importance of the people and relationships we encounter during research. "The document is proof. Photography. A recording of the conversation. You need to know how to save the Print Screen so that it is not rebuttable in court. Sometimes one piece of paper is enough for a good story, and much more often the confirmation of the story is deeply hidden in the riots of paper that a journalist pulls out of public institutions, institutions, companies or banks. That is why some researches last a month, some three, and some even a year or more", concludes Brkanić.
Workshops on investigative journalism, which have so far empowered 108 media professionals and freelance journalists from local media, were organized with the aim of strengthening independent and free journalism in local communities, and applying European standards in protecting freedom of expression and access to quality and objective information. The need for such workshops has been recognized by the BH Journalists Association, given the fact that small local media do not have the financial capacity or human resources to create research / analytical articles on various "sensitive" topics, which are "hidden" in each local community in BiH. Another reason why journalists in local communities find it difficult to decide to be researchers are constant pressures, attacks, (self) censorship by various centers of power, as well as dependence on funding sources.
Azra Mustedanagić, a FACE TV journalist from Sarajevo, believes that investigative journalism is very important, especially in local communities. "I am of the opinion that everything should start from us and our local community. We need to know if something is being built properly, how many spaces are provided by law for parking and similar things. Citizens also need to know how safe their local community is for them and their children. This can only be found out through investigative journalism, and by publishing clear and concrete evidence", says Mustedanagić.
As for the capacities and resources available to local media, Mustedanagic is of the opinion that certain capacities exist, but that resources are few or almost non-existent: "A lot of media depends on various factors, which are mostly of a financial nature. I think it is sometimes difficult for editors / owners and directors to "resist" this, given that their workers 'salaries depend on secure sources of funding. We should not forget that some media outlets have very few people in the newsroom, and the focus is always on the daily news. "
Mihaela Amidžić, a journalist from the Mladibl.com portal from Banja Luka, says that investigative journalism in local communities is necessary in terms of changes in social conditions, because stories that expose corruption, crime, improper privatizations, etc. they have an influence on public opinion that wants change in its environment. "Also, it is important to dedicate as much as possible to research stories in order to influence the work of state bodies and thus sanction irregularities, and scandals that are on the rise. I am of the opinion that the local media have many obstacles and challenges in creating research stories. Primarily, much more financial resources are needed, greater persistence and better education of journalists, and of course there is also a problem with the interlocutors, that is, their choice and consent to speak publicly" Amidzic believes. She adds that it is necessary to create better conditions for investigative journalism, "since the governing structures directly or indirectly influence the work of the media, they often put pressure on journalists for reporting that does not benefit them, and therefore the investigative journalist should remain persistent, which is why he needs more support from the community".
Participants in workshops from local media from all over BiH agree that investigative journalism requires above all courage and will, but also knowledge of their basic rights, as well as constant education and upgrading of knowledge, which empowers them to effectively resist various influences and pressures. In addition, media professionals believe that systemic support is needed for small media, especially during the corona virus pandemic, which would provide them with financial support on the one hand, and on the other hand ensure the independence needed to maintain professional standards and journalistic dignity.
The workshop on investigative journalism was held within the project "Free Media for a Free Society", which is implemented by the BH Journalists Association in cooperation with the Association of Electronic Media in BiH with the support of the European Union. The aim of this project is to strengthen independent and free journalism in local communities, and the application of European standards in the protection of freedom of expression and access of citizens to quality and objective information.