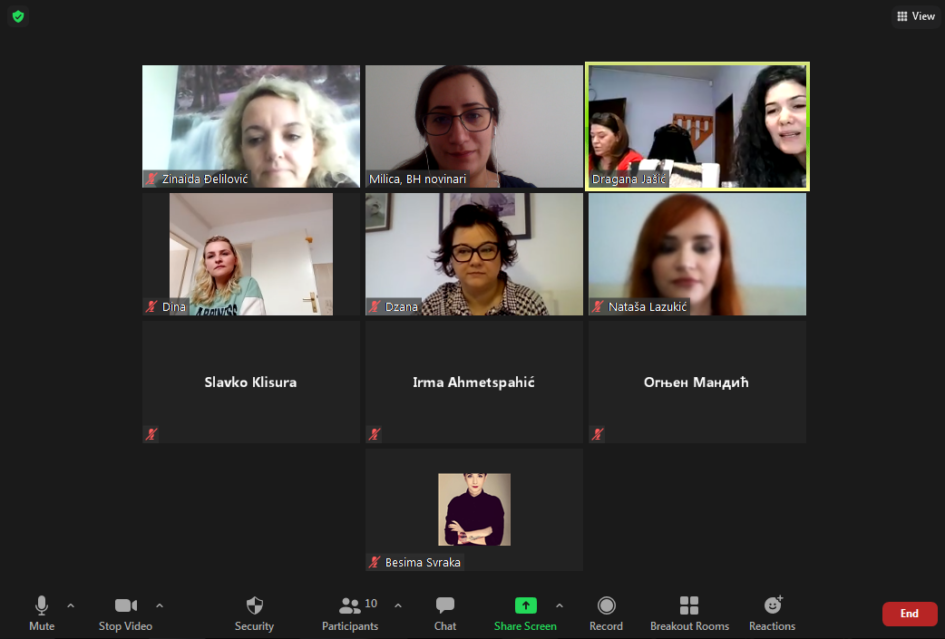 Sarajevo, April 6, 2021 – Investigative journalism requires a lot of time and resources and it can mean that one or more people from the editorial office deal with only one investigative story for a long time. The fact is that not every media can afford it, because it does not produce everyday content that "fills" the pages of newspapers or portals – it was pointed out during a workshop on investigative journalism for journalists from local media organized by the BH Journalists Association through the Zoom platform .
The workshop is held with the aim of empowering journalists, editors in local media, and freelance journalists from local communities to create and produce research / analytical content, in order to contribute to strengthening independent and free journalism in BiH.
Zina Tandir Đelilović, a journalist for Žurnal magazine and an educator at today's workshop, says that there is no formula for becoming an investigative journalist, nor does every journalist want to be an investigative journalist. "But investigative journalism can be done by any journalist, regardless of the medium in which he is employed. It's all a matter of approaching a particular topic. We must keep in mind that investigative journalism is a corrective to the society in which we live and as such is in the service of citizens", said Djelilovic, adding that investigative journalism not only helps citizens fight for their rights but very often points to different types of irregularities in society and how different abuses can affect our lives.
Džana Brkanić, editor of the Balkan Investigative Reporting Network believes that media professionals must have enough experience and knowledge to successfully assess whether something is worth researching. "It is important to learn the rules and laws of the system in which the story takes place in order to better understand and quickly recognize the importance of people and relationships that we will encounter during the research", said Brkanic, emphasizing that the document is evidence, photography, conversation that sometimes one paper is enough for a good story, and much more often the confirmation of the story is deeply hidden in the riots of paper that a journalist pulls out of public institutions, institutions, companies or banks and therefore some research lasts a month, some three, and even a year or more.
Dealing with investigative journalism in local communities can often be an awkward job, because while trying to expose non-transparent employment, suspicious tenders, criminal activities and many other illegal events to citizens, media workers are often attacked by powerful people, who are closely connected with politics or they are politicians themselves.
Eldina Bećirbašić, journalist of Media Pulse from Sarajevo, is of the opinion that the possibilities of local media for investigative stories depend primarily on the will, courage and interest of people working in local media as well as on their willingness to face possible negative reactions and consequences for media and journalists to their investigative story, and the potential pressures that make many not even engage in this type of journalism. "Investigative journalism is important because it points to important, systemic problems that people face in their local communities or beyond. Problematizing a certain problem in the public provokes a lot of reactions, but also the possibility to address it and solve it faster than it would have happened without the research ", points out Bećirbašić.
Jelena Zekić, a journalist for Radio Osvita from Zvornik, says that investigative journalism is important because it can be used to scratch and solve some long-standing problems in the community. "Capacities and resources for creating investigative stories are very limited and small, almost non-existent in small local media", said Zekic, who also believes it is possible to engage in investigative journalism in small communities, but that the question is how much loophole he faces a certain problems that will follow.
The webinar participants agreed that, although the material situation in the local media is difficult and the resources for funding investigative journalism are limited, there are still mechanisms by which media professionals can empower and create investigative stories, educate about their rights and opportunities, and develop professional competencies and be more motivated for this type of journalism. Also, the need to secure grants and favorable ways of financing small local media was re-emphasized.
The webinar was part of the project "Free Media for a Free Society" implemented by the BH Journalists Association in cooperation with the Association of Electronic Media in BiH with the support of the European Union. The aim of the project is to strengthen independent and free journalism in local communities, and the application of European standards in the protection of freedom of expression and access of citizens to quality and objective information.