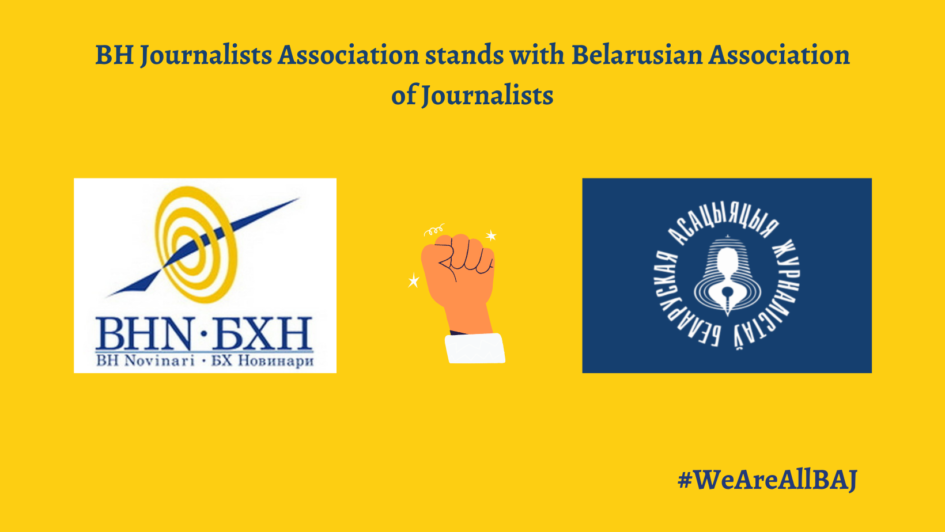 Sarajevo, March 25, 2021 – The European Federation of Journalists (EFJ) with its members and representatives of journalists' unions and associations has expressed deep concern about the growing repression over journalists and media workers in Belarus. In a joint letter to the heads of European governments, representatives of journalists' associations from all over Europe called for pressure on the Belarusian authorities to release political prisoners in the country, including a large number of journalists.
"Today, there are over 250 political prisoners in the country, including 12 journalists. And this is just the tip of the iceberg. Since the fraudulent presidential elections of 9 August 2020, more than 30,000 people (including 480 journalists) have been detained, with many of them subjected to torture and ill-treatment, and over 1,000 people targeted by criminal prosecution", states the letter from EFJ.
The BH Journalists Association joins the support of EFJ members for journalists in Belarus and demands the release of journalists in that country. We urge our government to demand from the Belarusian authorities the immediate release of the 12 imprisoned journalists and the withdrawal of administrative and criminal proceedings against Belarusian journalists.
It is necessary to appeal to the United Nations, the OSCE, the Council of Europe and the European Union, so that the international community intensifies pressure and takes action in the face of constant violations of human rights and press freedom in Belarus.