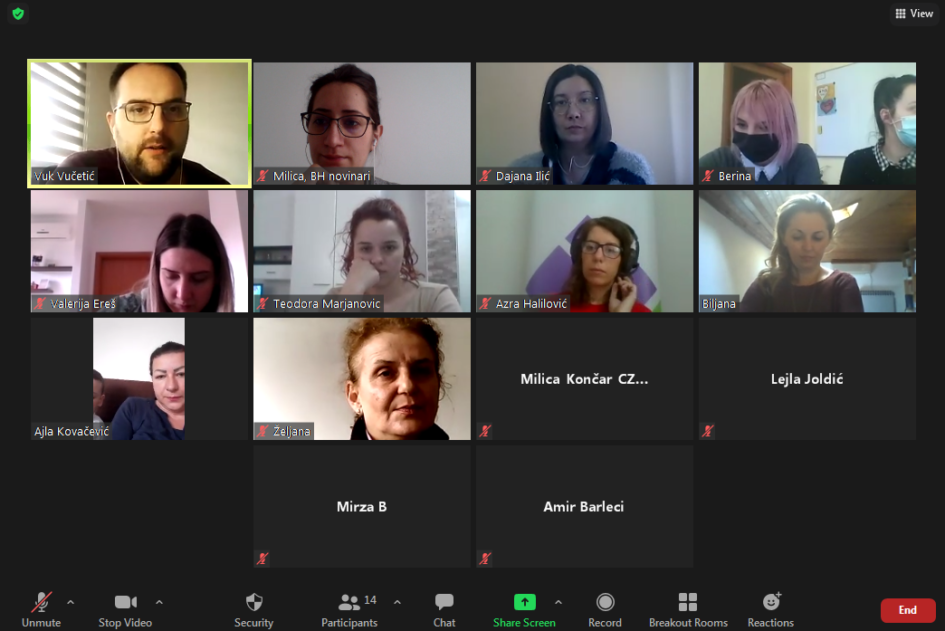 Sarajevo, March 24, 2021 – The ability to create media content is one of the most important elements of media literacy, so if we know the basic techniques of creating media content we can easily spot any irregularities, misinformation or manipulation, it was emphasized during the workshop on media literacy for civil society organizations, organized by the BH Journalists Association, which was held today through the Zoom platform.
Media literacy is a kind of beacon of modern society, in which individuals should be able to effectively search, evaluate, use, create and place information in order to achieve their personal, social and professional ambitions. Citizens must also be sufficiently informed and educated to be equal participants in democratic discourse, and to make constructive and responsible decisions and contribute to the "knowledge society".
Educator and media expert doc. dr Vuk Vucetic says that media literacy implies three main elements, namely: access to information, data analysis and creation of media content. "It is very important that we know how to access information, find credible information, but here we can also talk about how much a socio-political system allows access to information, and we come to a digital gap between those who have access to media and quality information and those who do not", Vučetić points out, adding that it is also important to know with the help of which technologies we can get credible information, where the role of libraries is very important, which are an excellent source of information, and are negligible due to the advent of the Internet. "Information is still verified in books, while on the Internet we cannot believe everything, and that is why the role of librarians in the 21st century is really important and they should be leaders in information and media literacy", Vucetic emphasizes.
With new technologies came new challenges and problems, so the online space abounds with a flood of fake content that has become commonplace and in order to better cope with this new reality it is necessary for individuals to have competencies and skills, and to know verification sources. Another problem that citizens face due to the arrival of new technologies is the misuse of private data, cyberbullying and hate speech, as well as hate violence, but also copyright protection, which is at a very low level.
Belmin Debelac from the Association "Young Volunteers" from Visoko believes that media literacy is very important, especially in today's time of modern technologies, where there is a lot of information from various sources, often unverified or false news. "It is difficult to be media literate, especially when we talk about the third generation, so we definitely need to work on media literacy from our own point of view, including us from non-governmental organizations", said Debelac, adding that non-governmental organizations have their own information channels. they can do a lot with them in terms of media literacy at the local level.
Dajana Ilić from the Association of Citizens "Budućnost" from Modriča is of the opinion that being media literate means being able to think critically, not taking things that are served through the media for granted, but also means being socially active, ie spreading useful, quality and verified content. "Anything contrary to that leads us into a vicious circle of misinformation, conspiracy theories, bad thoughts and projections that do not bring good to us or others. In order to preserve our own, but also other people's, mental health, it would be good to start educating ourselves on how to recognize accurate media content and share those educations further ", says Ilić, adding that the coronary virus pandemic has made it almost impossible to distinguish what is true and what is a lie, if you do not have the basic skills of knowing the media in general, and then social networks and the Internet.
"I have to notice that many organizations have been engaged quite seriously to explain certain phenomena on the Internet to their users. We can see that by participating in various educations, trainings, webinars, but also by the content that organizations place. These are some completely new times, but not so new when it comes to misinformation, because they have always existed, only the ways of their placement have changed ", concludes Ilić.
The webinar participants agreed that very few citizens know what their rights are in the online space, and how, in accordance with ethical principles, they can download content, verify information, and expose manipulative content and a false picture of reality. Representatives of the NGO sector also concluded that there is a very low level of awareness globally about how to communicate the message in the online world and then we witness various forms of violence, incitement and hate speech on social networks.
A workshop for the NGO sector in BiH on the topic of media literacy was organized within the project "Free Media for a Free Society", which is implemented by the BH Journalists Association in cooperation with the Association of Electronic Media in BiH with the support of the European Union. The aim of this project is to strengthen independent and free journalism in local communities, and the application of European standards in the protection of freedom expression and access of citizens to quality and objective information.