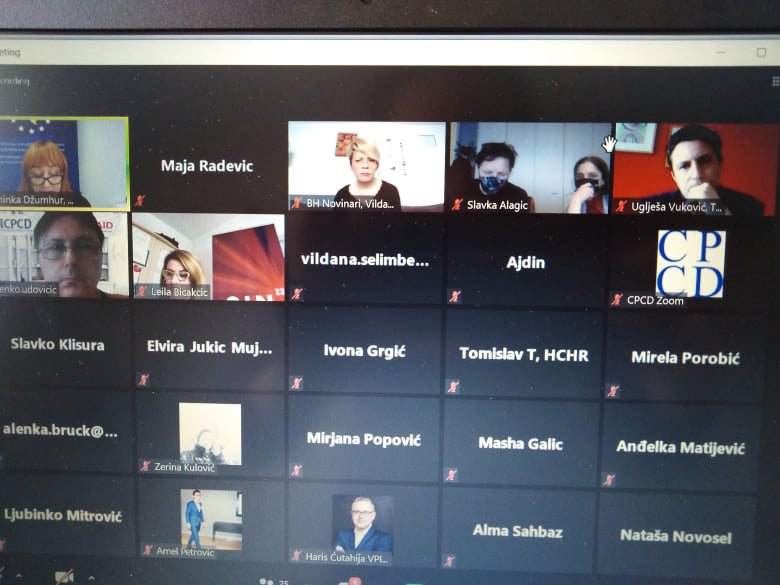 Sarajevo, March 15, 2021 – The new Law on Freedom of Access to Information (ZoSPI) must enable much more transparent work of institutions when it comes to access to information and provide timely and detailed answers to media inquiries to institutions – this was pointed out during the online debate "What needs to be changed within the Law on Freedom of Access to Information, which was held today within the IMEP program, with the participation of journalists and editors of BiH media, representatives of NGO's and the Institution of the Human Rights Ombudsman of BiH.
Uglješa Vuković from Transparency International says that this organization has advocated proactive provisions in the last few years and that the Law specifies which categories of information institutions must publish through their official websites.
-What worries us in the existing preliminary draft law is that the so-called acquired rights that already exist in the law are trying to change. There is also a very long list of exceptions to the legal provisions, which in practice could lead to institutions easily practicing some of these exceptions. Also, the preliminary draft states that the legal deadline for institutions to act from the existing 15 days may be extended in exceptional circumstances for another 15 days. We already have a large number of media complaints that the existing deadline of 15 days is too long, and now it could be extended to a month – Vuković points out.
Jasminka Džumhur from the Institution of the Human Rights Ombudsman of BiH said that this institution out of the total number of complaints on an annual level has 10 percent of complaints related to freedom of access to information and that most of the issued ombudsman recommendations refer to ZoSPI.
– It is commendable that the Ministry of Justice of BiH enabled these consultations regarding the first draft of the Law. However, there are certain challenges, in particular the limitations of the Ombudsman Institution when it comes to law enforcement and the proactive role of reducing the number of actions of the authorities and complaints about access to information. It is necessary to improve the existing solutions in a way that includes international standards – says Džumhur.
The director of the Center for Investigative Journalism (CIN), Leila Bičakčić, emphasized that the ZoSPI is one of the basic tools in the work of journalists and the media, especially those who deal with investigative journalism.
-CIN sends more than a thousand requests for access to information annually. Information concerning finances, budgets, public procurements is sensitive information that is almost inaccessible to the public and there is a great misunderstanding of institutions. Of course, everything depends from institution to institution – it is very easy to communicate with some, and very difficult with some. I do not know that a test of public interest has ever been conducted and in this new law there is still no clear instruction on how it is implemented – says Bičakčić.
Vildana Džekman from the BH Journalists Association believes that the law should not regulate the issue of journalists' access when gathering information.
– BH Journalists will propose a deadline for submitting information, ie answers to media inquiries, up to a maximum of three days, because we think that these deadlines should be significantly shortened – says Džekman.
Journalists should not be mentioned as a special category within the ZoSPI, says the editor-in-chief of Oslobodjenje, Vildana Selimbegović.
-For those who deal with daily journalism, ZoSPI is the last option. If we insist on being a special category, I am afraid that we will lose that possibility of direct communication and gathering information without submitting a formal request for access to information – says Selimbegović.
She reminded that BH institutions have an obligation to work transparently regardless of the Law on Freedom of Access to Information.
The essence of the new preliminary draft in relation to the old Law on Freedom of Access to Information in BiH is that institutions must act proactively when it comes to information at their disposal, and that information of public interest must be shared and published regardless of whether someone is asking for them or not. Institutions of Bosnia and Herzegovina will be obliged to publish on their website information about employees, including name, position, contact information and the amount of salary. In the Pre-Draft Law on Freedom of Access to Information of BiH, which is currently in the process of public debate, the novelty is that all information that institutions are obliged to publish will have to be submitted to the central portal of public information for their permanent availability, which will be run and maintained by the General Secretariat of the Council of Ministers of BiH.