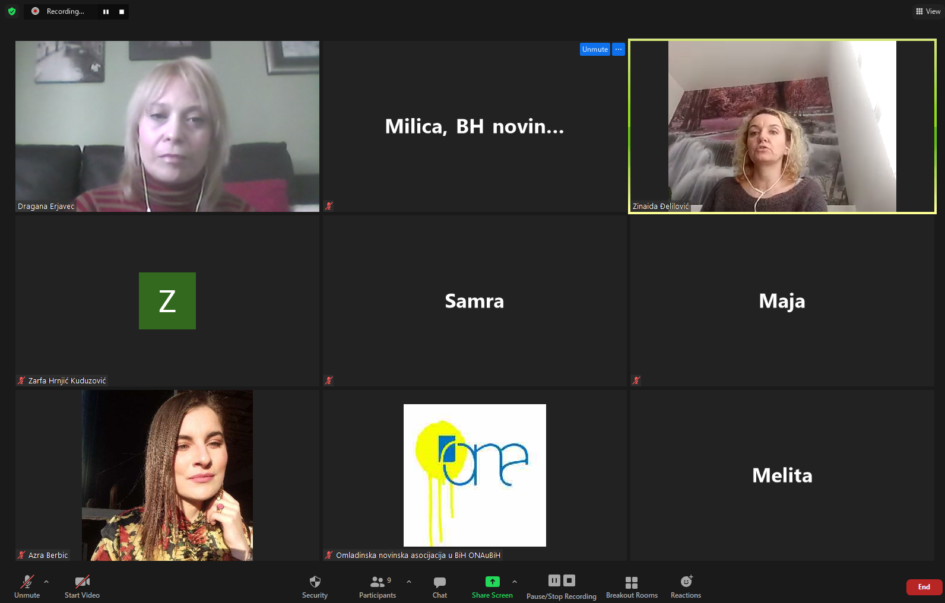 Sarajevo, February 26, 2021 – Being an investigative journalist in the local community has become a dangerous profession, especially if you do your job professionally and responsibly and do not want to create and publish commissioned promotional texts of government officials, but to point out all social anomalies and problems faced by citizens. This was emphasized during the workshop on investigative journalism for journalists from local communities, which was held today, organized by the BH Journalists Association through the Zoom platform.
Investigative journalism requires a lot of time and resources and means that one or more people from the newsroom work on one story for days and sometimes months, which few bh. newsrooms can afford, says educator Zinaida Đelilović, a journalist for Žurnal magazine. "Honestly, not every journalist, nor the media, is ready to face the problems that can befall them after they publish an investigative story, especially if you write about crime and corruption. A lot of colleagues withdraw in those moments, they don't even want to report threats and attacks, but I think it's important to go public, talk about what is happening to us because it can influence that person to never do it again", said Đelilović.
Radio Free Europe journalist Dragana Erjavec believes that it is very important for journalists to know how to read and understand laws, to use public documents, because it is a sacred rule in investigative journalism, which on the one hand gives journalists security and credibility to the story. "When you do research stories, it often happens that the confirmation of the initial suspicion is hidden in a million papers you ask from public institutions, companies, institutions and by analyzing the collection of documentation you find important connections, ways of money, evidence that needs to be classified and presented to the public in the most understandable way" , emphasizes Erjavec.
Zinida Đelilović has a similar opinion, who believes that it is crucial to choose good interlocutors, experts in their fields for each story, and then compare everything collected with legal provisions if the topic requires it. "A journalist must have factual evidence for every sentence mentioned in the text, and that is the main tool for refuting every thesis that the story is manipulation, propaganda and lies", says Djelilovic, adding that it is important to know how to separate the important from the irrelevant, and would be understandable to the public, because only in that way can a good effect be achieved.
Journalists who choose to be investigators, to uncover various scandals, corrupt practices, anomalies often face various problems: their phones are tapped, their emails are hacked, they are threatened, or they are physically attacked all with the aim of intimidation and silence. The situation is especially bad in small communities, where media workers on the one hand do not have the capacity to resist pressure and attacks, and on the other hand are overburdened with daily obligations so they do not have enough time to critically question everyday events.
Vanja Šunjić, a journalist from Sarajevo, believes that investigative journalism is very important in local communities, because at the local level there should be corrective factors that will indicate irregularities, given that large investigative media are not always informed about events in local communities or have no interest in cover all topics. "It is very important to encourage journalists to engage in investigative journalism in their communities and to create mechanisms by which they will feel safe and know that they are not alone. Local media have very little capacity and interest in creating research stories. These are mostly small newsrooms that at one point become the propaganda machinery of the governing structures, especially if we are talking about public media, which are owned by municipalities, cities or cantons ", says Šunjić, adding that private local media operate on a similar principle- the editorial board is mostly made up of a few people, and the ownership structure is not journalists, but presidents and directors of various NGOs, who are much more willing than their fellow journalists to make any concessions that violate the rules of the profession, because they often work for certain interest groups.
Azra Berbić, a journalist and activist from Kakanj, has a similar opinion and believes that it is very important to develop capacities for investigative journalism in local communities, because often many stories remain untold given that other journalists who do not live and work in the local area do not have the opportunity to access information that is much easier for journalists in their local communities to access. "Unfortunately, I am afraid that the local media have almost no capacity, primarily because they are limited by the fact that they are financed from the public budget, which in BiH generally means that they must be in favor of the current government at the local level. In addition, journalist do their regular duties, because they mostly work in daily newsrooms, often do not have time to dedicate to investigative stories and thus no opportunities to gain experience in investigative journalism ", said Berbic, adding that she still believes that there is space for the development of research newsrooms, even if it were a joint collaboration between several private local media in an area.
Workshop participants agreed that working in local media is often under political, financial and institutional pressures, which ultimately result in violations of the right to freedom of expression and freedom of information. Journalists perform their work in difficult conditions, trying to maintain the dignity of the profession and to provide citizens with objective, verified, credible and quality information in accordance with high standards of journalism, and that it is therefore necessary to strengthen their capacities in investigative journalism.
A workshop on investigative journalism for journalists from local media was held within the project "Free Media for a Free Society" implemented by the BH Journalists Association in cooperation with the Association of Electronic Media in BiH with the support of the European Union.