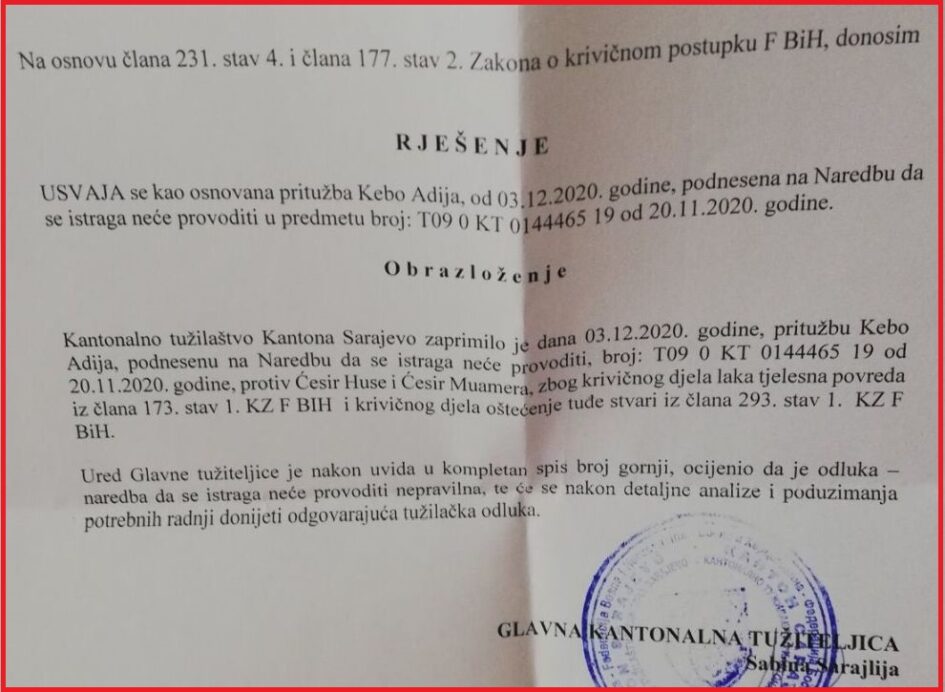 SARAJEVO, 25.12.2020. – Chief cantonal prosecutor Sabina Sarajlija issued a decision approving as well-founded the complaint of the Žurnal photographer Adi Kebo, submitted on the order of cantonal prosecutor Sanita Imamovic that no investigation will be conducted against Huso Cesir and Muamer Cesir for the criminal offense of light bodily injury and damage to property.
In the explanation of the previously issued order, prosecutor Imamovic stated that there were no grounds for suspicion that Huso and Muamer Cesir had committed a criminal offense, because, as stated, it was obvious that the reported offense was not a criminal offense. Adi Kebo appealed the decision, after which the chief cantonal prosecutor issued a new decision.
"After reviewing the complete file, the Office of the Chief Prosecutor assessed that the decision – an order that the investigation will not be conducted is incorrect, and after a detailed analysis and taking the necessary actions, an appropriate prosecutor's decision will be made," the statement said.
In March 2019, the president of the Municipal Board of the Party of Democratic Action (SDA) Novi Grad, Huso Cesir, physically attacked Adi Kebo while Kebo photographed the entrance to Cesir's company "Bosnaplast" – whose business Žurnal wrote about.
Kebo managed to record the attack on camera. The video clearly shows Huso Cesir first threatening the photographer that he would "break" his camera, and then continuing to rudely attack Kebo and try to take his camera. At one point his son Muamer Cesir approached, managed to snatch the camera and give it to his father, who then headed towards the entrance to the company. Huso Cesir returned the damaged camera to Adi Kebo when the photographer took out his mobile phone with the intention of calling the police.
(Source: Žurnal.info)