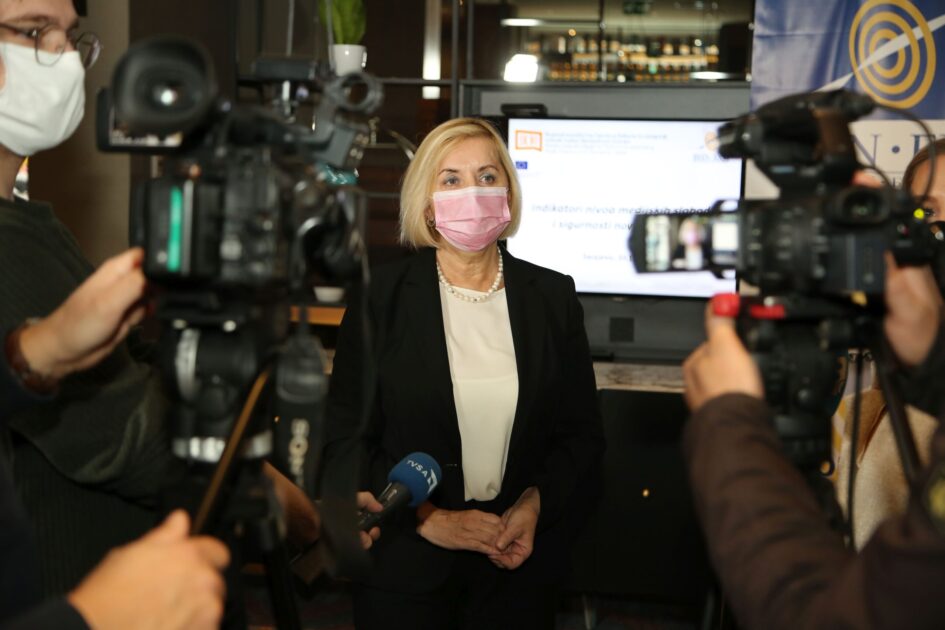 Sarajevo, November 20, 2020 – The growing number of attacks and threats to journalists in Bosnia and Herzegovina is extremely worrying, and representatives of the authorities and institutions must be much more actively involved in the problems of protection of journalists and ensuring media freedom if BiH wants to obtain candidate status for the European Union – this was pointed out at the presentation of the report Indicators of level of media freedom and safety of journalists in Bosnia and Herzegovina 2019, which was held today in Sarajevo, organized by the BH Journalists Association.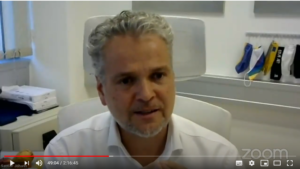 According to Ambassador Johann Sattler, Head of the Delegation of the European Union to Bosnia and Herzegovina, the media have a great responsibility and ask questions that are very important for citizens, and it is imperative that they do their job in a safe environment.
– The fact that in 2019 there were 56 cases of attacks and threats to journalists is really a large number. We often have verbal attacks on journalists, not only physical ones, and these are problems that the media face in the entire region. BiH cannot get EU candidate status if there is no media freedom both offline and online, and in that sense all standards must be met. This is the task of this country and government officials, according to the European Commission, must work on media freedom as one of the 14 key priorities that BiH must meet before joining the EU – said Ambassador Sattler.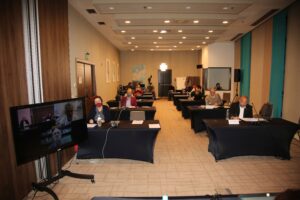 He added that it was unacceptable that public institutions in BiH had not yet started collecting data on attacks on journalists.
– It is great that associations like BH Journalists do it, but it should be done by state institutions, as it is in other EU countries. Another problem is the small number of incidents that have been fully investigated and resolved. Certain laws, such as public advertiser laws, must also be implemented. Part of the process includes steps forward in terms of digitization. Many journalists I have spoken to here have expressed concern for their own safety while doing their job and this is unacceptable. There are, of course, economic limitations, low salaries in the media compared to other professions, and this is especially pronounced now in the conditions of the COVID-19 pandemic. Relevant organizations must enable the media in BiH to perform their role with full freedom of expression and you can be sure that the EU Delegation is on your side – said Ambassador Johan Sattler.
The BH Journalists Association has been actively working on the problem of protection of journalists and media freedom for years and it is a tragic realization that none of the key elements that belong to the indicators of media freedom changed significantly, said Marko Divković, President of BH Journalists.
– The fact that we had 56 attacks and threats to journalists in BiH last year speaks volumes about that. One of the key problems is the huge number of defamation lawsuits against newsrooms and journalists. In this way, journalists are put under a special kind of pressure, which is a sword that constantly hangs over their heads. On the other hand, we have a misunderstanding of the role of the media by the representatives of the judiciary, as well as the political sphere that sees the media either as a means in their service or as enemies – said Divkovic.
In 2019, a total of 56 cases of attacks, threats and pressure on journalists were registered in Bosnia and Herzegovina, and only by mid-November 2020, 67 incidents were reported to the Free Media Help Line. Last year, there were 9 physical attacks on journalists and media employees, more than in 2018 and 2017. Of particular concern is the increasing incidence of online violence and the increasing number of threats that journalists receive through social networks and in comments on Internet portals. Despite reporting threats to the police, in most cases those behind threatening messages to journalists remain anonymous and unsanctioned, which further discourages media professionals and undermines their trust in the police and justice system.
Tamara Filipović Stevanović from the Independent Association of Journalists of Serbia (NUNS) pointed out that the situation in the field of media freedoms in the entire region has worsened compared to previous years.
– Last year we had 67 recorded incidents in Serbia, and this year by mid-November we already have 68. We are also recording a significant increase in the number of incidents in other countries in the region. As for Serbia, we are some black record holders in the region. Journalists are still physically endangered for doing their job and only last year we had 11 physical attacks, and this year we have recorded as many as 27. The number of verbal threats has also doubled – said Filipović Stevanović.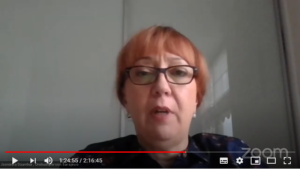 BiH Human Rights Ombudsman Jasminka Džumhur emphasized that since last year when we discussed the same topics, there has been no progress.
– If we want to protect journalists, we must have a legal provision for that in the criminal law. The plan for resolving cases in court is also inadequate, and we have the problem of inefficient inspection supervision when it comes to violations of employment rights. When it comes to attacks on journalists, it is especially indicative when it is done by government officials, who should refrain from all such statements – said Dzumhur.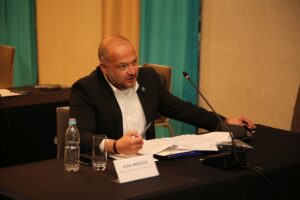 The director of the Center for Education of Judges and Prosecutors of the Federation of BiH, Arben Murtezic, reminded that two years ago, the HJPC instructed all prosecutor's offices and courts to separately record all cases related to journalists. However, this recommendation of the HJPC has not yet taken root in judicial institutions.
– There is generally a problem between the judiciary and journalists in BiH, a kind of antagonism and misunderstanding between the two professions that are equally important to society. However, I do not think that this fact is reflected in individual cases concerning journalists and the media. Certainly, there should be a strategy of relations with the media in the judiciary in order to improve these relations – Murtezić emphasized, and added that the judiciary has made a significant effort when it comes to defamation lawsuits, and that some progress has been made in the courts also understanding the specifics of the profession and the rights of journalists.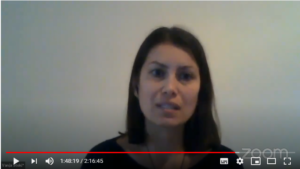 Journalist Vanja Stokić described her experience with online death threats she received after she posted a photo with two migrants on Facebook.
– When the case came to the Prosecutor's Office, the prosecutor decided not to conduct an investigation, believing that it was not a death threat, but an expression of personal attitude and dissatisfaction. The BH Journalists hired a lawyer and we filed a complaint, but that complaint was also rejected. I had that system of support from fellow journalists, but also from lawyers, human rights experts, readers of our portal, and that encouraged me. However, this decision of the Prosecutor's Office is really devastating and I feel betrayed by the system – said Stokić.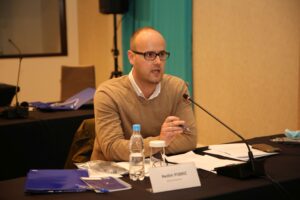 Journalist Nedim Pobrić, author of the analysis "Investigations and prosecution of attacks on journalists and media workers in Bosnia and Herzegovina" conducted within the Safejournalists project, said that the phenomenon of increasing violence and threats against journalists is not a subjective perception of the media community, but a statistical fact .
– We tried to get individual data from judicial institutions and the answers we received were really devastating. Most of the threats made to journalists, and even in cases where the identity of the perpetrators was known, generally ended up with investigations suspended. As for physical attacks on journalists, in many cases proceedings have been initiated and cases have been formed, but these are lengthy processes and sanctions are often inadequate. Creating a more efficient framework for investigating and prosecuting attacks on journalists is one of the key priorities for BiH's accession to the European Union. In the report from October this year, the European Commission stated that nothing has been done in recent years in order to make that framework more efficient and functional, which speaks enough about the engagement of our representatives of authorities and institutions – Pobrić concluded.
The report "Indicators on the level of media freedom and safety of journalists 2019" was produced as part of the fourth regional assessment of the level of media freedom and security of journalists in the Western Balkans, within the project Regional Platform for Media Freedom and Safety in the Western Balkans supported by the European Union. The presentation of the report was organized as a hybrid event (online and offline) with the participation of 27 journalists, representatives of international and media organizations, the judiciary and state institutions, and in compliance with all epidemiological measures.