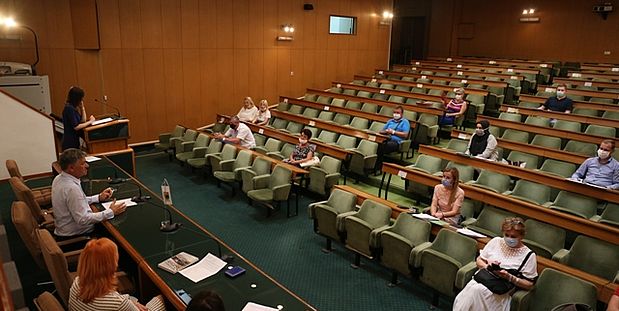 Sarajevo, August 26, 2020 – The Steering Committee of BH Journalists Association (BHJA) and the Free Media Help Line (FMHL) are sending an open letter and public protest to the mayor of Zenica Fuad Kasumovic for insults addressed to representatives of the BHJA during a press conference held two days ago in Zenica.
During the signing of the contract on the warming of residential buildings on August 24, in the Great Hall of the City of Zenica, mayor Kasumovic mentioned the BH Journalists Association in an extremely insulting and inappropriate way, saying that he was "attacked by some associations" to which, as he stated, he could only say "scram!". This verbal attack took place in front of the present media representatives, among whom was a member of the Steering Committee of BH Journalists, whom Kasumovic also publicly called out.
The Steering Committee of BH Journalists and the Free Media Help Line strongly condemn this statement by mayor Kasumovic and demand his public apology for openly insulting not only members of the Association's Steering Committee, but also all media representatives that the current mayor of Zenica insulted during his term. This incident is another in a series of incorrect, undemocratic and insulting statements by Fuad Kasumovic towards media workers and members of BH Journalists. Kasumovic's behavior is inadmissible for a public official who holds office in a democratic society. Instead of presenting an example of responsibility and respect for the freedom of the media and journalists' associations, mayor Kasumovic adopted a concept according to which he responds to any criticism of his work with primitive insults and humiliation of journalists and those who defend their rights and freedoms.
We call on the mayor of Zenica, Fuad Kasumovic, to refrain from such actions against media employees and members of the BH Journalists Association in the future, because these kind of statements are not only contrary to democratic and European values, but also seriously jeopardize media freedom and safety of journalists in BiH.
Criticism of the work, decisions and behavior of public officials is an absolute right of BH Journalists and all our colleagues who work in the media, and the right of mayor Kasumovic is to respond to such criticism with arguments, decency and respect for basic communication norms, not through verbal attacks and insults.
Given the fact that this is not the first such appearance of Fuad Kasumovic, the BH Journalists Association and the Free Media Help Line will inform all relevant domestic and international institutions about this case and ask them to protect the rights of representatives of the Association and our members.
Steering Committee of BH Journalists Association/Free Media Help Line