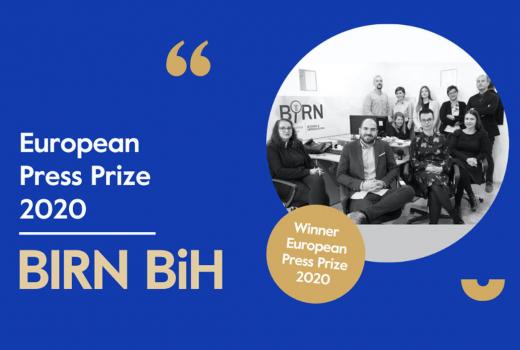 Sarajevo, 11.06.2020. – For "efforts and success in ensuring justice for war crimes victims", BIRN BiH was awarded with the European Press Prize Special Award 2020. The members of the jury stated that the work of this BiH media "provides a unique archive of all war crimes trials, as well as many personal stories of survivors, documentaries about victims of sexual violence and families of the missing persons, and numerous other research and analyzes." The special award is given for "special excellence" in European journalism.
BIRN BiH Director Denis Dzidic says the award means indescribably much to a team that spent days, weeks and months writing about war crimes and reporting daily from courtrooms to record the testimony of every victim who came to tell their story.
"This award also belongs to the victims, because our work would be worthless had it not been for the surviving women and men who gathered the courage to share with us the most horrible things they experienced, showing courage, patience and strength we cannot comprehend. That is why our role is to always keep their respect and provide a safe place for them to tell their stories", said Dzidic.
Jury member Alexandra Föderl-Schmid of the Süddeutsche Zeitung said BIRN was "really doing a good job" and that "they support investigative journalism in Bosnia and Herzegovina, which is a difficult task there". BIRN BiH editor Semir Mujkic said the European Press Prize was a great recognition of Europe's best journalists.
"I am especially glad that the members of the jury recognized our research work on important stories for society. The daily commitment of our journalists to do and write investigative stories and the perseverance in conveying sensitive and relevant stories have now received recognition and new encouragement. It is a great honor to receive this award", said Mujkic.