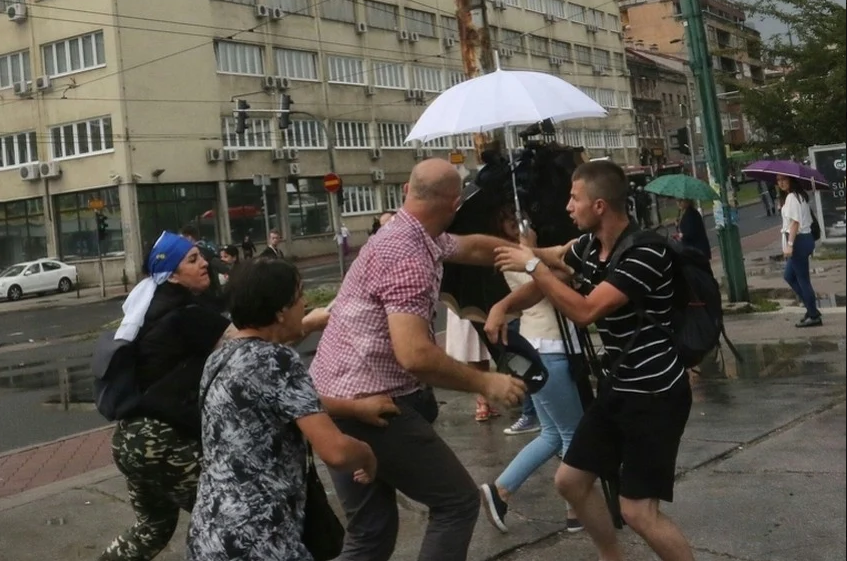 Sarajevo, 11.05.2020. – The Municipal Court in Sarajevo found Emila Hamzić and Suad Lelo guilty of attacking the photojournalist of Klix.ba portal and the cameraman of Al Jazeera Balkans in July 2018 in Sarajevo.
Hamzić and Lelo were found guilty of the criminal offense of violent behavior.
They were sentenced to a probation prison sentence of six months each.
This sentence will not be executed if the accused don't commit a new criminal offense within two years from the day the verdict becomes final, the KS Prosecutor's Office announced.
Lelo and Hamzić, known as Esma Turulja, are charged with physically assaulting a photojournalist of Klix.ba portal and a cameraman of Al Jazeera Balkans on July 26, 2018, during a rally of demobilized soldiers near the intersection of Skenderija-Hamza Humo streets, inflicting them with light bodily injuries.
Both Hamzić and Lelo denied guilt for the attack at the trial.
This attack was condemned by numerous organizations, media outlets, but also political parties.