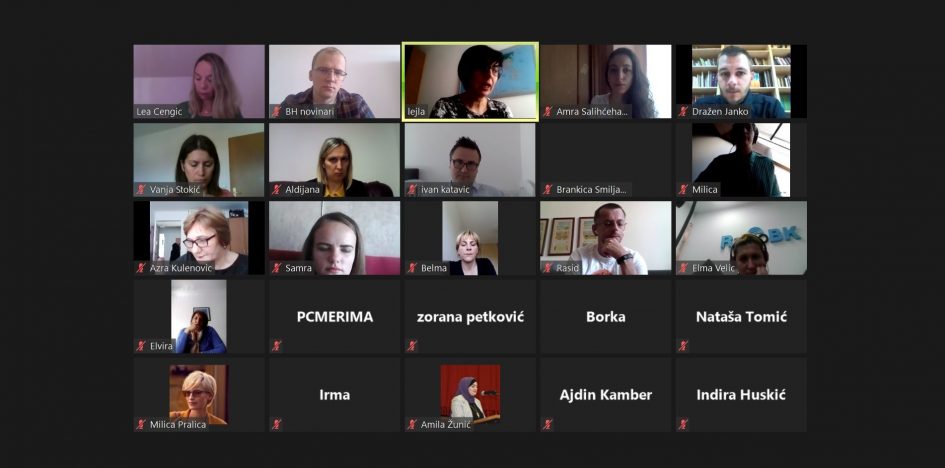 Sarajevo, May 6, 2020 – Reporting on gender-based violence is most often based on revealing the identity of victims, presenting half-information and rumors, exposing the victim to shame and public lynching, and "justifying" perpetrators, it was pointed out during the educational webinar "Reporting on gender-based violence", organized by the BH Journalists Association.
During the three-day training of the coach prof. dr. Lejla Turčilo and prof. Dr. Belma Buljubašić from the Faculty of Political Sciences in Sarajevo and Lea Čengić from the Communications Regulatory Agency spoke about media regulations, ethical standards, reporting on sensitive topics and gender-based violence, and media culture and gender.
During the first educational session, Professor Buljubasic spoke about the reactions to sexual violence in BiH, which are mostly reduced to complete ignorance or to common stereotypes and myths condemning the victim, which indicates the degree of extreme conservatism of society.
"Such treatment of women victims of violence causes most acts of violence to go unreported, and the perpetrators go unpunished," Buljubasic said, adding that victims do not report sexual violence for fear of condemnation, retraumatization and the desire not to discuss and condemn them.
Buljubasic says that BiH media mostly report on gender-based violence when it comes to cases of physical violence, while some other forms such as economic and psychological violence are less represented or there are no media reports about them at all.
"Journalists most often use sensationalist and unfinished headlines when reporting on gender-based violence, creating news from the domain of the black chronicle, competing to collect more details about the victim's life," Buljubasic said, stressing that media professionals should not report on it. what happened, but that they should point out the seriousness of the problem, give other victims of violence guidelines on how to get out of violent relationships, and who to turn to.
That media professionals often make mistakes when reporting on gender-based violence, believes prof. Dr. Lejla Turčilo, who says that most of them are about non-compliance with journalistic standards and unethical reporting, sensationalism, as well as carelessness about the consequences for the person – the victim, but also society.
"Journalists should not focus only on the event, but should keep in mind the whole context regarding the person who is exposed to violence. Also, it is necessary to take into account the way in which a certain person is portrayed in the media in terms of his vulnerability ", Turčilo points out, adding that the feelings of the victim's family members, who are often exposed to the media, are completely ignored. to provide "exclusive" information.
Lea Čengić from the Communications Regulatory Agency of BiH says that the problems related to gender-based reporting are reflected in the non-acceptance of the concept of gender equality, stereotypical portrayal of women and men, poor use of gender sensitive language, marginalization and social exclusion of women. topics.
"The Codes of the Communications Regulatory Agency of BiH contain more detailed provisions on the prohibition of discrimination and stereotyping, provisions on hate speech, reporting on criminal proceedings and protection of juveniles involved in criminal proceedings in any capacity, which are important in the context of gender reporting. based on violence ", says Čengić, emphasizing that in recent years there have been cases of violation of the above provisions regarding the stereotypical representation of women, as well as violation of the privacy of victims or witnesses of violence, and hate speech based on sexual orientation.
On the first day, the webinar was attended by 30 journalists, editors, bloggers and journalism students from Tuzla, Kladanj, Kakanj, Sapna, Tešanj, Mostar, Bihać, Sarajevo, Banja Luka, Zenica, Velika Kladuša, Zvornik, Kalesija, Bosanske Krupe and Donji Vakuf. Participants concluded that the media have an important role to play in breaking down prejudices and combating discrimination, and that with professional reporting, respecting the rights and interests of victims of gender-based violence, they can contribute to understanding and accepting diversity in society, and preventing and reducing violence against women. gender.
The webinar is part of the project "Building a fairer, more equal and integrated society that guarantees women in Sarajevo personal integrity and the right to life without gender-based violence" implemented by the BH Journalists Association in cooperation with Medicus Mundi Mediterania from Barcelona.