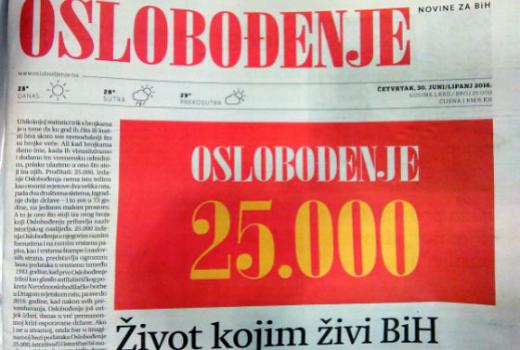 Sarajevo, 13.04.2020. – The Steering Committee of the BH Journalists Association urges media employers in BiH, media owners and board members to stop layoffs of journalists and other media professionals as an economic measure and response to the financial crisis within the media industry, caused by the coronavirus epidemic and drastic reductions in commercial and other revenues.
With regret and protest, BH Journalists received information about the termination of the employment contracts to a significant number of journalists and other media professionals in the Oslobodjenje company, as well as announcing similar procedures in at least 10 media outlets in different parts of the country.
BH Journalists are urging the owners and the management of Oslobodjenje to reconsider their decision, try to retain people and look for other, alternative ways of overcoming financial difficulties. We are fully aware of the fact that, as a journalist's association, we have no legal authority, nor can we determine to the owners of the media outlets, including the owners of Oslobodjenje, what economic measures they will bring, but we can demand that the reduction of the number of employees, if necessary, be carried out lawfully, without discrimination, in consultation with the union of employees and with full protection of the labor and social rights of journalists.
The Steering Committee of BH Journalists also warns that reducing the number of media employees can only temporarily halt or delay the economic collapse that threatens all media in BiH in the next six months. Crisis staffs, governments at all levels or relevant media organizations have not yet taken urgent measures to economically save the media industry and preserve the public function of the media, which was their task!
We therefore urge the relevant governments, media institutions and international donors to form an emergency media fund, the funds of which will enable the production of professional and diverse media content in the public interest. Since the declaration of emergency and the state of the disaster in BiH, the media outlets and journalists have been a service to all citizens and key transmitters of information regarding the coronavirus epidemic, with no indication from the authorities that they are ready to help the media outlets survive financially. If they do not do so soon, BH Journalists will invite the media to boycott all press conferences and events organized by BiH authorities and crisis staffs.