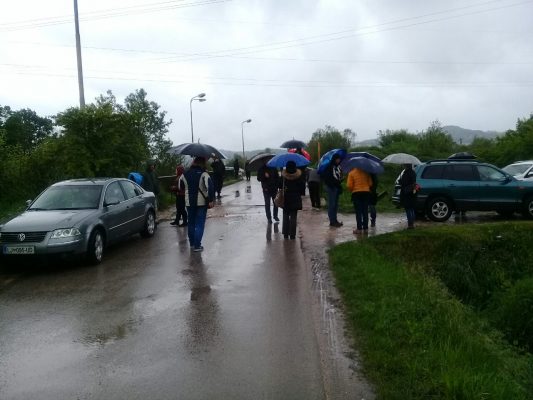 BHRT
TUZLA, 14.05.2019. – Steering Committee of BH Journalists Association and the Free Media Help Line strongly condemn the physical attack on the cameraman of Radio Television of the Tuzla Canton Ademir Mešanović on the surface mine "Šikulje" in Lukavac, which is part of the Kreka Mine. Workers of the "Cobra" security firm turned to Mesanovic camera this morning, and on that occasion, they damaged the camera and thrown it into the mud.
According to information available to BHJA, the attack was carried out according to the order of the management of Rudnik Kreka, whose "crisis headquarters" had previously made a decision to "protect the image" of the company in a way to prevent journalists from recording the eviction of families whose houses and estates are nearby surface mine "Šikulje". In addition to attacking the RTV Tuzla Canton team and preventing cameramen from doing their job, other media teams have been prevented from recording.
The violent and primitive behavior of the employees of the security firm Cobra and the decision of the Mine Kreka Management with the director Osman Blekovic that they did not allow the media to capture are an unacceptable attack on the freedom of expression and the safety of the work of media professionals and they are a particularly brutal attempt to prevent the media from reporting an event of public importance, what is the eviction and fate of families living near the mine.
BHJA and the Free Media Help Line demand the public reaction of the Mine Kreka management about this attack and urgent permission for all journalists' teams to follow the eviction procedure and report on this to publicity. The attack has already been reported to the competent police station for the investigation and legal sanctioning of Cobra employees, who physically attacked Ademir Mesanovic and damaged the property of RTV Tuzla Canton.
Steering Committee of BH Journalists Association
BHN, Tuzla, 14/05/2019