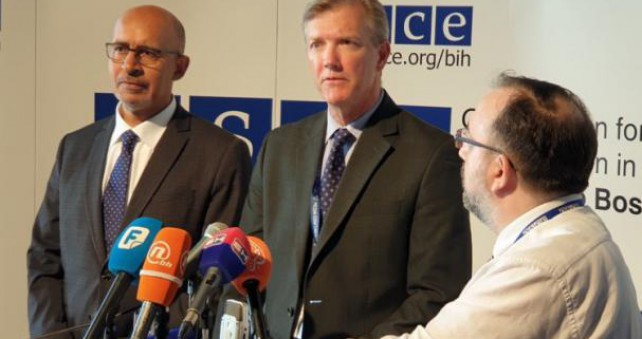 Fena
SARAJEVO, 18.06.2018. – Journalists and the media in Bosnia and Herzegovina face challenges on a daily basis and are asked to be independent and free, according to the OSCE Media Relations Representative Harlem Desir.
Unfortunately, according to Desir, last year we have all been witnesses of the further intimidation of journalists and media companies.
"There was also a lot of influence on the media and public service, and it should be completely independent. It does not need to be a propaganda machine in the service of government and political parties, but it should be in the service of all citizens", Desir said.
The focus of this year's conference, organized in co-operation with the OSCE Mission in Bosnia and Herzegovina, was on media development and their sustainability, journalists safety, the legal framework related to freedom media and finding sustainable solutions for public broadcasters. As Desir said, the conference is also a chance to create additional or better links for co-operation as key components to improve the quality and conditions for freedom of the media in Southeast Europe.
Desir considers that freedom of the media is not only a matter of protecting journalists in their work without fear or pressure.
"There is a clear need for a better understanding of the role of the media in a democratic society, not only to ensure economic viability, but to achieve their independence in facing with economic and political pressures", Desir said.
In his words, in South East Europe, the lack of mutual trust between the media community and local authorities resulted in the creation of an atmosphere of widespread violence against independent media.
"Female journalists represent a special risk group and face a spectrum of gender-based violence, including Internet threats, physical and psychological abuse. Such attacks pose a great challenge, not only in terms of the right to public opinion, but also a strike on basic democratic values ​​and human rights", Desir points out.
As ambassador Bruce G. Berton, the head of the OSCE Mission to Bosnia and Herzegovina said, media freedom is the foundation of every democratic society, reflecting its own degree of freedom and the willingness to protect common human rights, including the right to freely seek, receive and share information .
"The OSCE Conference on South East European Media will explore new ways of engagement of all relevant actors from the region, with the aim of improving the degree of media freedom through practical steps, constructive and open dialogue", emphasized Berton.
He stressed that journalists must be protected, as is clearly stated in the recent decision of the OSCE Ministerial Council on Journalist Security adopted in December last year.
"There is no doubt that journalistic integrity and professionalism are of major importance. However, we also testify to filing malicious lawsuits for the purpose of shutting down critical voices. It is an insult to justice and undermines the very foundations of any democratic state", said Berton.
He also pointed out that instead of attacking the media and huddling them with hate speech, politicians should respect that pillar of democracy that is of vital importance and use it to show BiH citizens a brighter future with their example.
FTV/Fena, Sarajevo, 18/06/2019