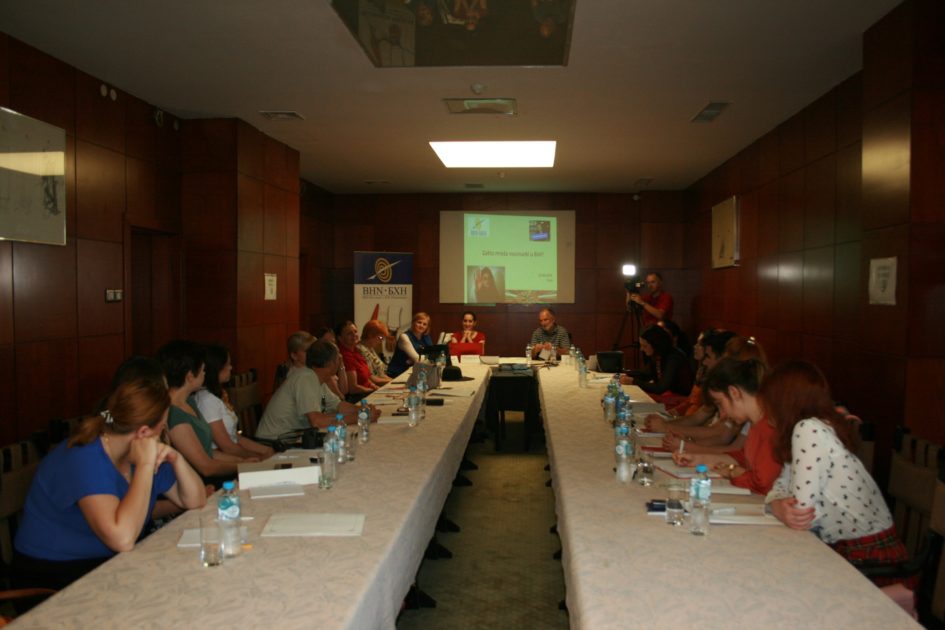 TUZLA, 12.06.2018. –In the last three years, the BH Journalists Association has recorded 50 threats and attacks on female journalists in BiH, but it is assumed that this number is significantly higher because journalists rarely report violations of human rights to relevant institutions and organizations. This was said at a workshop in Tuzla on the topic of protecting the human rights of female journalists in BiH media.
The workshop pointed out that the female journalists in the Tuzla Canton are in a much worse position than their male colleagues, and that they are more exposed to intimidation, mobbing, sexism and other types of verbal threats and attacks.
"It is devastating that journalists attack and discriminate perceived discrimination as a normal and integral part of their everyday work," said professor Zarfa Hrnjic Kuduzović, with the Department of Journalism at the Faculty of Philosophy at the University of Tuzla, who is one of the authors of the research on the position and protection of female journalists that BH journalists conducted last year on a sample of 100 respondents from the media community.
"There is a very small number of reports of attacks on female journalists, and female journalists are discouraged by the fact that almost nothing is done in the sanctioning of the attackers as well as the prevention of evidencing violations of women's human rights in the media, " said professor Hrnjic-Kuduzovic and urged female journalists to more resolutely fight for the advancement of judicial practice and punishing violators of journalist rights advocate amendments to criminal law in BiH for more effective protection of media freedoms and rights of journalists.
The project coordinator of BHJA Milica Andrijašević emphasized that the BH journalists Association is currently implementing a spectrum of activities aimed at strengthening the network of journalists in order to increase basic knowledge on the protection of women's rights and the rights of media professionals to recognize violence in the context of gender policies and gender equality.
"BH journalists really want to educate female journalists, editors and students of journalism about gender policies and gender equality, as well as the mechanisms at their disposal and the means of protection in cases of attacks, discrimination, mobbing … On the other hand, we want to improve the awareness of the public on the need for more efficient protection of journalists, as well as the greater involvement of judicial institutions in the implementation of existing and new laws that would more effectively protect media freedom and rights of female journalists", said Andrijašević.
President of BH journalist Marko Divković, based on his personal experience, concluded that the greatest problem of journalists in the Tuzla Canton is insufficient knowledge of professional and human rights. He recalled that in journalism there are more and more young journalists who have not learned enough about their rights on the faculty or are trained in media outlets in the media.
"I can not say with certainty whether there are violations of working and professional rights of female journalists or their rights because they are women, but in this way, I would invite young colleagues to get better acquainted with their rights and to be protected in such a way," said is Divković.
As the fastest and most effective way of protection is education, connectivity, solidarity and mutual support of journalists, said the participant of the workshop.
"Joint education is an excellent opportunity for female journalists and journalists to hear certain experiences, research and thus get inputs on how to react in certain situations", said Fatima Bećirović from the Gender Center of the Federation BiH.
The Tuzla workshop was held within the project "Strengthening the Network of Female Journalists in BiH" implemented by BH Journalists Association through the USAID's Independent Media Empowerment Program (IMEP) and supported by Free Press Unlimited from the Netherlands.
BHN, Tuzla, 12/06/2019