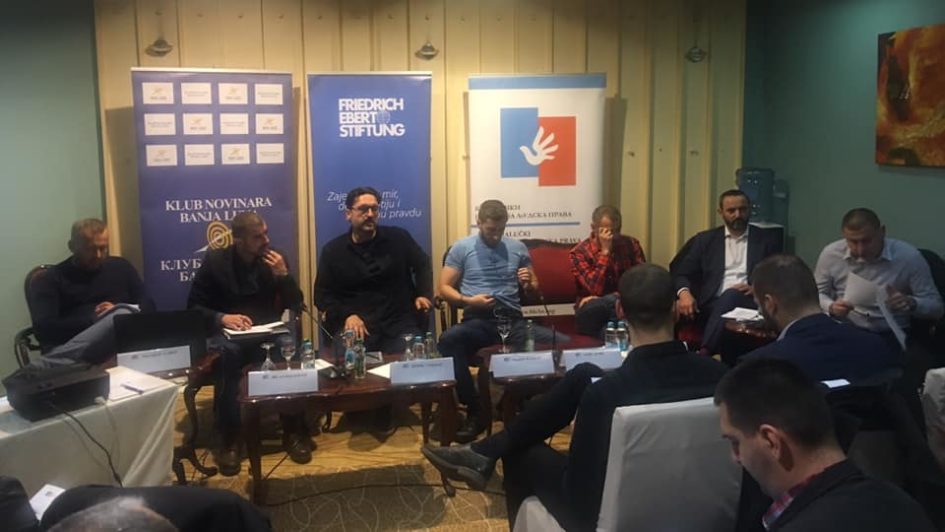 BANJA LUKA, 16.05.2019.- The BH Journalists Association, the Banja Luka Human Rights Center and the "Friedrich Ebert" Foundation, organized a conference and panel discussion on the theme "Journalists and citizens at the stroke of the law and lawlessness" ( attack on journalists, intimidation, censorship, protest, legal protection, and legislation).
The main topics of the conference are the influence of laws on media freedom and human rights, off-shore media offenses and the suffocation of journalism and civic protests by censorship and pressures.
Đorđe Vuković from the Faculty of Political Science Banja Luka pointed out that journalists have to protect the profession. "Expect that politicians, lawyers, and audiences will return honor and strength to the journalism and the place in the society, and in the same time tolerate the abuse of an important call, it is necessary that faithfulness and loyalty in the code of ethics expose those who abuse the profession of earning personal, particular ideological, national, private or any long-term interests, "Vukovic said.
Marko Divkovic, president of the BH Journalists Association, said that this association made a concrete proposal to refer to legislative bodies at all levels of government, whose essence is that attacks on journalists threats as attacks on officials.
I think that this will reduce the number of attacks. The essence is to give a suggestion to the legislative bodies, and will they do it – I'm not very optimistic because a good deal of attacks and threats sent to journalists in recent years is actually initiated from the same political mile we are submitting proposals to bring this into law ", Divkovic said.
Vladimir Kovačević, a journalist of BN TV, said that journalists must insist on detecting the instigator of the attacks.
"If we do not deal with this, it is obvious that those who should, especially institutions, will not address these cases," concluded Kovačević.
BHRT, Banja Luka, 16/05/2019