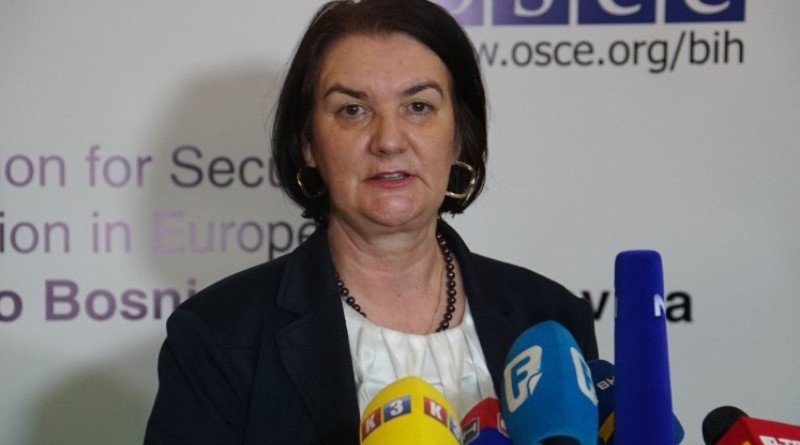 SARAJEVO, 22.04.2019.-The Steering Committee of the BH Journalists Association and Free Media Help Line strongly condemn the unauthorized interference of the BiH Prosecutor's Office in the work of journalists and media in Bosnia and Herzegovina, including ghastly and unprofessional statements by Gordana Tadic, Chief Prosecutor.
At a press conference in Sarajevo on April 19, Chief Prosecutor Tadic again tried to denounce journalists, determine how they work and provide information to them through legitimate investigative procedures for the benefit of the media and the public, with the aim of covering up the ineffective treatment of the BiH Prosecutor's Office in the area of crime and corruption, especially in specific cases known as "falsification of diplomas" and "intelligence affairs".
The Steering Committee of BH Journalist's Association was overwhelmed with the envious ignorance of Prosecutor Tadic on media freedom, the rights of journalists and the role of investigative journalism, including the obligation of the media to provide the public and citizens with all information of public importance without requiring the Prosecutor's Office BiH, Prosecutor Tadic and her associates, nor any other state or public authority or institution. In this context, sharing the lessons to journalists in BiH about how to work and to whom information is delivered is considered a professional insult, but also an unauthorized interference with the media by a public demonstration of the institutional and judicial forces, with the intention of restricting the rights of journalists to freedom of expression. This right includes the freedom to research, receive and disseminate information, and secure the work of journalists in accordance with the European Convention on Human Rights and Fundamental Freedoms.
Due to all of this, the Steering Committee of BHJA requests from the BiH Prosecutor's Office and Mrs. Gordana Tadic to communicate with journalists and media in the framework of professional rules, decency and civility, taking into account the needs of the media and the public's right to be informed about issues of importance for citizens' the treatment of the judiciary and the functioning of the legal state as a whole.
At the same time, we are asking for an urgent response to the Free Media Help Line (March 25, 2018) why the Prosecutor's Office and Prosecutor Tadic did not conduct an investigation into the illegal investigation of journalists of the portal Žurnal Azre Omerović and Avdo Avdic in the BiH Prosecutor's Office and which legal actions take action against prosecutors who have violated the CC of BiH, as confirmed by Prosecutor Tadic in public hearings.
The Steering Committee of BH Journalists Association
BHN, Sarajevo, 22/04/2019