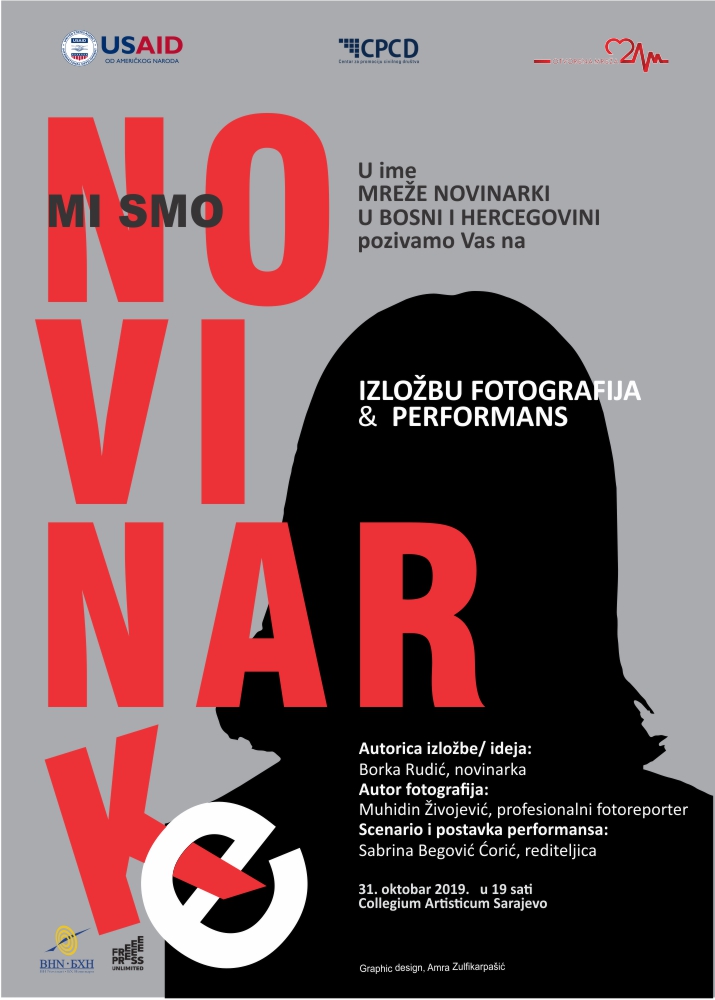 Sarajevo, October 30, 2019 – The BH Journalists Association is organizing a performance and exhibition entitled "We are female journalists", which will be held on Thursday, October 31, 2019, at the Collegium Artisticum (Terazije bb) starting at 19:00h.
With this event, BH journalists Association want to draw public attention to the problems faced by female journalists, and the unequal position of women in relation to male colleagues in the media industry, as well as all the inconveniences that happen to media workers while performing professional tasks in the field.
In the first part, the audience will have the opportunity to see a performance under the direction of Sabrina Begović Ćorić, in which actresses Amina Begović, Ana Tikvić and Andrea Aković will perform, after which journalists Arijana Saračević Helać, Dragica Vukalo and Maja Nikolić will address the audience.
The second part of the event is dedicated to the exhibition of 31 photographs of journalists who have been victims of mobbing, discrimination, verbal and physical attacks, threats, political and other pressures, misogyny, chauvinism or have been denied labor rights in the last few years.
The exhibition will be opened by Sanela Nuhanović, curator of the Collegium Artistricum, Borka Rudić, author of the exhibition and general secretary of BH journalists Association and Slavisa Prorok, project manager of the IMEP project.
The performance and exhibition are part of the project "Strengthening the Network of Female Journalists in BiH", implemented by the BH Journalists Association through the USAID-funded Independent Media Empowerment Program (IMEP project), and supported by Free Press Unlimited from the Netherlands.