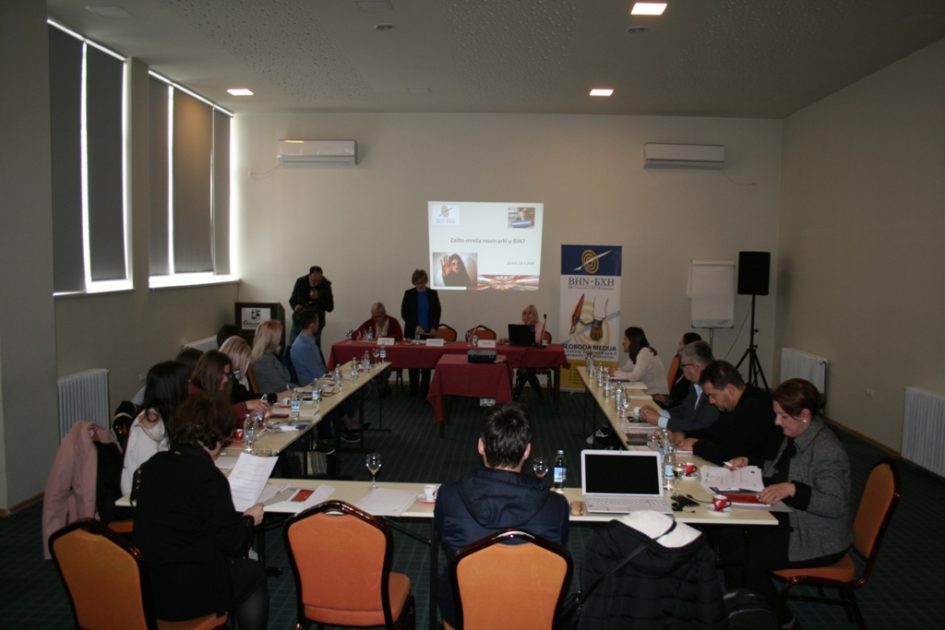 Zenica, May 17, 2019 – Disappointment in the judicial system, lengthy court proceedings, futility of the process and perception of violence as a normal form of communication are the reasons why female journalists most often do not report attacks and pressures, it was pointed out at the workshop "Position and protection of female journalists in BiH media "organized by the BH Journalists Association yesterday in Zenica.
On the other hand, the female journalists themselves are not sufficiently educated about their rights, they are not familiar with the legal framework as well as with domestic and international mechanisms for the protection of labor and social rights, against discrimination and for equality of men and women in the media. These are the reasons why female journalists and other media workers do not believe that they will be adequately protected, which is why they often suffer various forms of professional and gender-based violence for a decade or more.
Velida Kulenović, president of the Zenica Journalists' Club, said that last year's formation of the Network of Female Journalists in BiH was very important, in order for female journalists themselves to fight harder for their rights, educate and advocate for greater representation of women in management and editorial positions in the media. Kulenović believes that the support of this network for local media female journalists is very important because they increasingly violate the rights of female journalists and that is why it is necessary to talk as much as possible about protection mechanisms.
"Female journalists report on the rights of others on a daily basis, but they do not have enough time or knowledge on how to protect their rights and how to fight for their realization," Kulenovic said, adding that constant education of journalists, representatives of judicial institutions and police officers is necessary.
BH Journalists Association also conducted research that showed that women are underrepresented in serious news content, that they often present themselves in a distorted context, and that journalists find it much more difficult to advance within the media industry than their male counterparts, especially in places where news is defined, formulate and distribute.
"Women hold only 24% of management positions in the BiH media, while the share of women in the position of director is 25.3%, and men are 74.7%. The research also showed that the worst gender structure is in director positions in the TV sector, where women hold close to 16 percent of director positions, "said Secretary General Borka Rudic, emphasizing that most women are editors-in-chief in the radio sector and least online sector.
The reasons for the small number of women in decision-making and power positions within media houses lie in part in the poor awareness of women journalists about their women's rights, but also in the fact that media houses do not have internal regulations on promotion, gender equality, discrimination prevention and other segments of position regulatio, and the rights of female journalists.
Duška Andrić from the Center for Legal Aid to Women from Zenica says that female journalists almost never come to seek legal protection and assistance, but that this is nothing new because women generally report less kind of violence, discrimination, threats, mobbing, etc.
"Female journalists do not report violations of their rights and do not trust them just like other citizens, but it is problematic that they do not know anything more than ordinary citizens about their rights, and they should know, if not for themselves, then for their audience they should educate because that is, in the end, one of the basic functions of the media: education ", believes Andrić.
This workshop is just one in a series of activities planned by BH Journalists Association in the next six months to empower media professionals to advocate louder and clearer respect for their women's human rights, and ultimately to ensure greater representation of women in leadership positions in the media industry. A new educational workshop for female journalists is planned for May 23rd in Mostar, where representatives of Herzegovina's local and public media will discuss the problems women face in journalism.
The workshops are part of the project "Strengthening the Network of Female Journalists in BiH" which is implemented by the BH Journalists Association through the Program for Empowerment of Independent Media (IMEP project) and with the support of Pree Press Unlimited from the Netherlands.