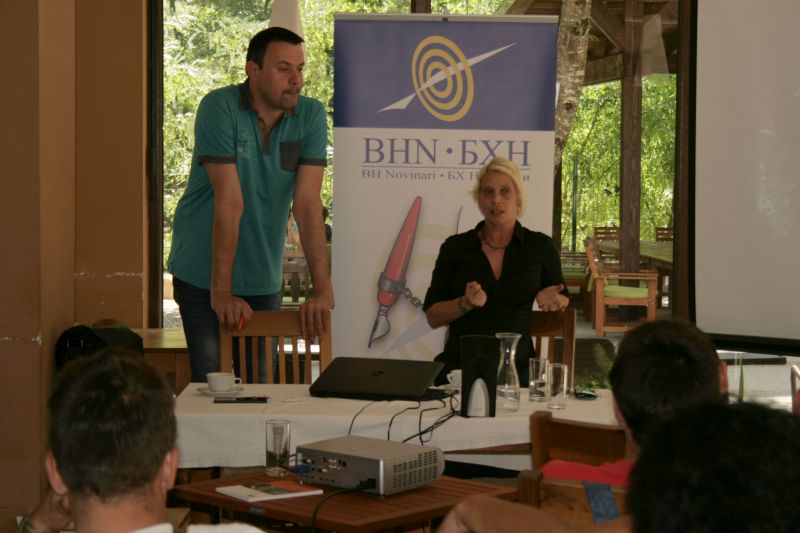 Boracko Lake, July 18, 2017 – "Media and journalists can contribute to the process of dealing with the past by exerting public pressure to resolve war crimes trials," said Dragana Erjavec, BIRN journalist and editor of TV Justice magazine at the Journalism Academy on Boracko Lake. Inserts from the TV Justice magazine series are shown.

The guest lecturer of the second module JA2017 was also the journalist and host of Al Jazeera Balkans television Marko Radoja. Today, the participants of the workshop analyzed the informative reports of various public and private television broadcasters about the same events from the recent war past.

The Second Module JA2017 "The Role of Media and Media Reporting in Strengthening Peace, Tolerance and Stability in BiH" at Boracko Lake was completed with the graduation ceremony. The summer educational camp Journalism Academy 2017, the sixth in a row, was held in two modules in the period from July 9 to 18, 2017, with the support of the Embassy of the United States of America in BiH. The workshop gathered participants from Sarajevo, Banja Luka, Tuzla, Bileća, Zenica, Sokolac, Brčko, Gračanica, Kalesija, Čelinac, Jablanica, Velika Kladuša, Žepče, Iljaš and Vogošća.