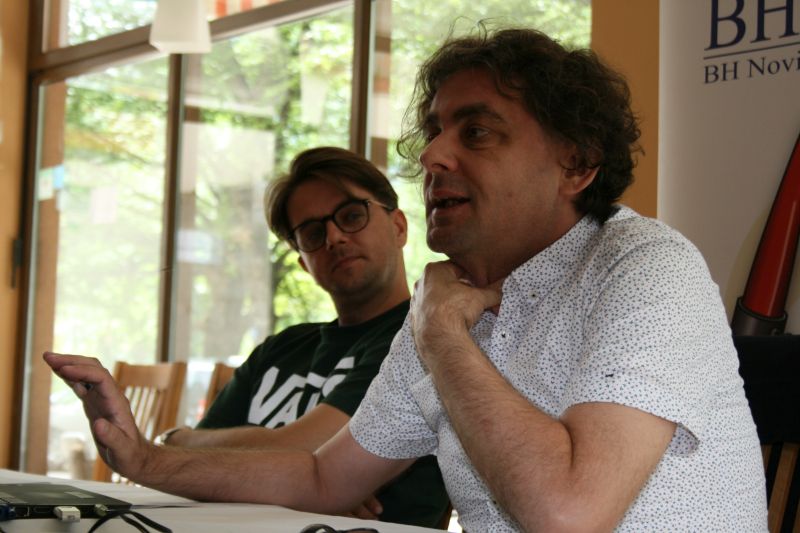 Boracko Lake, 16.07.2017. – "There are few newsrooms in Bosnia and Herzegovina that can meet the audience and not the center of power", said Professor of the Faculty of Philosophy in Tuzla Prof. Dr. Enes Osmancevic, adding that the reason for this situation in the media is "the lack of professionalization and standardization of journalism professions ".
Professor Osmancevic spoke as a lecturer at the Journalism Academy on Boracko Lake, on the topic of self-regulation and reporting in post-conflict societies. "Newsrooms speak on behalf of the audience without conducting any relevant research," the professor said, adding that an alternative to the current state of the journalism profession could be offered by "online portals that operate from a freer position."
Participants of the Journalism Academy 2017 today also dealt with the analysis of media content by applying the provisions of the Press and Online Media Code in BiH, and with the mentorship of prof.dr. Enes Osmančević and doc.dr. Mirza Mehmedović from the Faculty of Philosophy, University of Tuzla.

The lecture was also given by the President of the Association Center for Democracy and Transitional Justice (CDTP), Zlatica Gruhonjić, who spoke about transitional justice in BiH and its key values. "One of the pillars of transitional justice is the formation of a commission for determination
the truth ", said Gruhonjić.
Participants were shown a documentary by Maja Leđenac and Željka Mihaljević "Apostles of Good", which is part of a series of films "Living Together", dedicated to the civic courage of individuals and their deeds during the last war in the former Yugoslavia.
The second module of the Journalism Academy 2017 dedicated to the topic "The role of the media and media reporting in strengthening peace, tolerance and stability in BiH" brought together students, journalists and editors from Sarajevo, Banja Luka, Tuzla, Bileća, Zenica, Sokolac, Brčko, Gračanica, Kalesija, Čelinac, Jablanica, Velika Kladuša, Žepče, Iljaš and Vogošća and is held with the support of the Embassy of the United States of America in BiH.