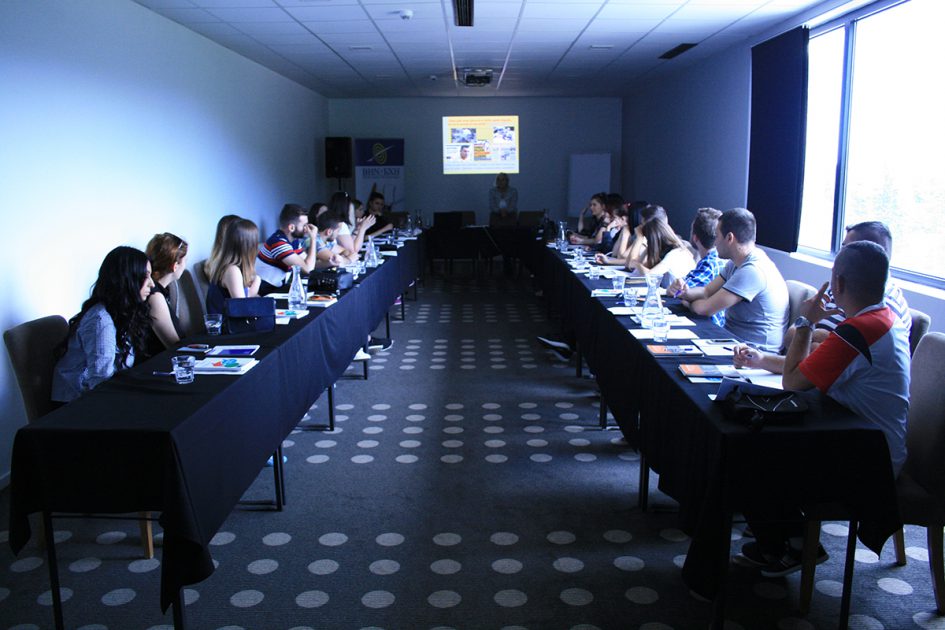 Jahorina, 05.06.2017-On the second day of the Journalism Academy 2017, participants had the opportunity to listen to lectures on regulation and self-regulation in Bosnia and Herzegovina. Also visiting was Brayan Wockley, Human Rights Officer at the US Embassy in BiH, who spoke about youth, the media and dealing with the past, but also about how to build a society of tolerance, respect for national, religious, cultural and linguistic diversity.
"It is a great honor to talk to these young people today and emphasize that journalists have a very important role to play in establishing the common truth we share," Wockley said, adding that BiH must establish a minimum of common understanding without which it cannot move forward.
Director of the Press Council in BiH Ljiljana Zurovac spoke about the importance of media self-regulation and reporting in post-conflict societies and about the Code for Press and Online Media in BiH which obliges journalists to work in the interest of the public and all social groups.
"The code helps a journalist to be free in his reporting, so we insist on it, but we also go to the newsrooms to point out to journalists the danger of publishing irresponsible information," said Zurovac.
Azra Maslo, Head of the Program Standards Department of the Communications Regulatory Agency of BiH, spoke with the students of the academy, who explained the role of RAK in the regulation of electronic media and media reporting in accordance with the provisions of the Code on Audiovisual Media Services and Radio Media Services.
The Academy also screened the documentary Apostles of Good, which was produced as part of a series within the project "Living Together" implemented by BH journalists in cooperation with the Independent Journalists' Association of Vojvodina (NDNV).
Journalism Academy 2017, a workshop for journalism students and young journalists, started yesterday at the Vučko Hotel in Jahorina.
The topic of the fifth Academy is "Reporting on Diversity: The Media's Contribution to Strengthening Peace, Tolerance and Stability in BiH", and the participants had the opportunity to discuss the basics of diversity reporting, techniques and methods of researching peace-building topics. tolerance and stability in post-conflict societies, but also in the BiH legal framework for the protection of human rights.
The workshop gathered 25 journalism students from Sarajevo, Banja Luka, Tuzla, Zenica, Mostar, Nevesinje, Srebrenik, Brcko, Teslic, Pale, Siroki Brijeg, Kakanj, and during their five-day stay at the Academy they will have the opportunity to listen to lectures by prominent professors of journalism and journalistic ethics. media professionals, international experts and civil society activists.